A Facelift for Your Smile
Written by Ross Nash, DDS Last modified on April 6, 2018
---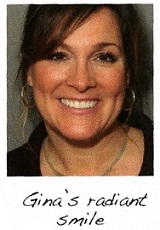 The attractive young woman pictured here is Gina. She certainly has no need for a facelift, but she came into my office looking for one… for her smile.
Smile makeovers are popular treatments that can include one or more procedures aimed at revitalizing or otherwise transforming a smile.
Smile makeovers are customized on a case-by-case basis. For Gina, we went with 10 porcelain veneer laminates, which made her smile brighter, fuller and more youthful. She played an integral role in the treatment process, making decisions related to color, contour and number of teeth to receive veneers. A radiant smile was the end result.
Here are some common questions I get when it comes to smile makeovers that involve veneers.
---
Q. How does one go about choosing the optimal color, shape and other characteristics of veneers for his or her own smile?
A. During a consultation appointment, expectations are discussed with the patient. Desired outcomes related to color, size, shape and other smile characteristics are reviewed. This may involve viewing before-and-after images of other completed cases, looking at physical examples of color options in the form of shade guides, or having a computer simulation performed to illustrate the patient's smile potential.
---
Q. How long does it take to get a new smile with porcelain veneers?
A. Typically the veneer treatment process can be completed in two appointments spaced over a period of two-to-three weeks. A more accurate timeline can be determined during the consultation process once the dentist has had a chance to evaluate the patient's smile and overall dental health. (On occasion, underlying issues like tooth decay or gum disease must first be treated.)

---
Q. How long can porcelain laminates be expected to last?
A. The durability of porcelain veneers largely comes down to the patient. Generally speaking, with good home care and in an atmosphere of dental health and proper function, ceramic laminates can be expected to last for many years.
---
Q. Do teeth have to be cut down to receive laminate veneers?
A. Depending on the condition of the teeth and the end result desired, the amount of preparation of the teeth ("cutting down") is determined by the dentist. Minimal or no preparation is ideal, and absolutely achievable. However, some patients may require substantial preparation of the underlying teeth to elicit the optimal effect.
---
Got a Question for Dr. Nash?