Orthodontic Correction: Treatments for Overbite, Underbite, Crooked Teeth and Crowded Teeth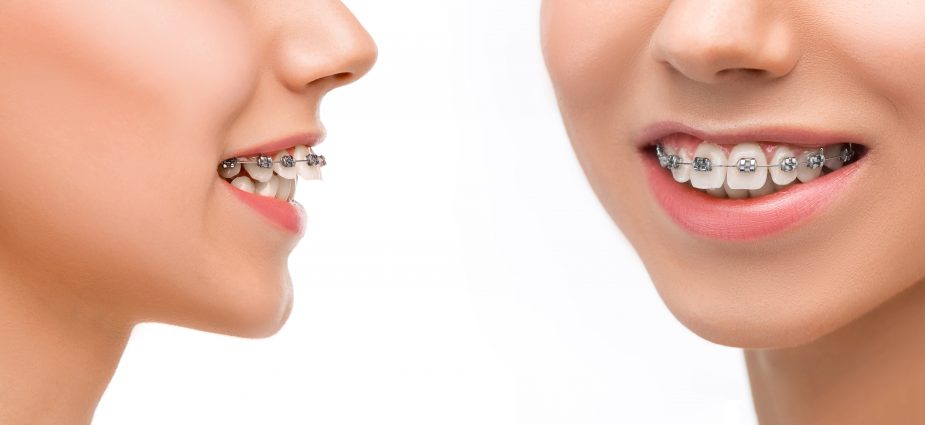 Dental abnormalities affecting the position or alignment of the teeth can dramatically affect the esthetics and functionality of your smile. Orthodontic treatment — with braces, retainers or clear aligners — corrects conditions such as crowded or crooked teeth, overbite (when top teeth extend beyond bottom teeth), underbite (when bottom teeth are too far forward or upper teeth are too far back), incorrect jaw position and jaw-joint disorders.
Orthodontic correction also may be necessary when the upper and lower jaws do not meet properly, resulting in an uneven bite (malocclusion). If not properly managed, an uneven bite could lead to the development of temporomandibular joint disorder (TMJ).
Protruding, crowded, or irregularly spaced teeth and jaw problems may be genetic. Certain situations and habits, such as accidents (tooth injury), not wearing protective devices like mouth guards during athletic activity, and premature tooth loss, thumb sucking and tongue thrusting also may contribute to conditions requiring orthodontic correction.
Benefits of Correction
The correction of problematic conditions like overbite, underbite, crooked teeth or crowding will give you straighter teeth, a better bite, a more attractive smile and healthier teeth and gums. Additionally, an improved facial appearance increases your self-esteem and confidence in social settings.
Crooked and/or crowded teeth make it difficult to perform proper oral hygiene, which can lead to tooth decay, gum disease and tooth loss. A bad bite can interfere with chewing and speaking, as well as cause abnormal wear on tooth enamel, excess stress on supporting bone and gum tissue, and headaches, earaches and jaw problems.
If left untreated, these problems may worsen and require additional dental care and cost. For this reason, orthodontic correction can be viewed as a smile enhancer and potential long term money saver.
---
In this feature, we look at traditional wire and bracket dental braces vs Invisalign clear aligners.
Types of Correction
Your orthodontist or dentist will guide you in making the best choice of orthodontic treatment based on your unique situation and needs.
Braces, also called orthodontic appliances, are the most common type of orthodontic correction. Braces shift the position of the teeth or hold them in place. Fixed braces are worn all the time and can only be removed by your dentist. Conversely, removable braces can be taken out of your mouth; however, your orthodontist or dentist will advise against repeated, long-term removal of the appliance for optimal results.
Brackets, which attach the wires to the teeth, come in three varieties: metal, ceramic or plastic. Although more noticeable, metal braces are the strongest and work best for complex bite problems. Ceramic brackets, which are slightly weaker and more brittle than metal braces, are clear or tooth-colored, making them more attractive to some patients. Inside, or ibraces — which have brackets that attach to the back of teeth, so they are hidden from view — appeal to patients seeking the strength and efficiency of metal braces coupled with the esthetic appeal of "invisibility."
Aligners, an alternative to traditional braces, are a series of clear (invisible), customized removable appliances. Unlike metal braces, aligners do not trap food particles and plaque between your teeth. Each aligner is worn for approximately two weeks, only to be removed for eating, brushing and flossing. A recommended option for adults with mild spacing problems, invisible aligners are not suitable for children and adolescents with non-permanent teeth.
Space maintainers are another form of orthodontic correction, though not as comprehensive an option as braces. If a baby tooth is lost prematurely, space maintainers steady the remaining teeth around the missing tooth gap, helping to keep the jaw's natural position in place. This prevents the teeth around the gap from moving into the empty space, which otherwise could cause overcrowding and crooked teeth when the permanent tooth eventually erupts. If this condition is left untreated, it could possibly require extensive and expensive orthodontic treatment later on. Small, hardly noticeable and easy to adjust to, custom-fit space maintainers are an easier and less expensive option for holding teeth in place.
Removable computer-generated appliances can treat selective cases in which orthodontics would otherwise be needed. However, these appliances may cost more. Depending on the complexity of your case and what must be achieved when moving your teeth, removable appliances with wires may be used.
A palatal expander frequently is used when the upper arch isn't as wide as it should be. Such an appliance is best for developing children between the ages of eight and 10.
Length of Orthodontic Correction
The length of time you will have to wear orthodontic appliances depends on your condition and treatment plan. The more complex your spacing or bite problem, and the older you are, the longer the treatment period.
Most patients wear full braces between one to three years, followed by some time wearing a retainer to hold the teeth in their new positions. The typical length to wear a retainer is one year. However, some adults must wear a retainer at night for the rest of their lives.
Who Performs the Treatments?
Most dentists are trained to treat minor orthodontic problems. If your general dentist determines you or your child should see a specialist for treatment, you will be referred to an orthodontist. An orthodontist has two to three years of specialized orthodontic training beyond dental school and focuses on the diagnosis, prevention, and treatment of dental and facial irregularities.
What it Costs
Your costs will be affected by the type and duration of treatments, the dental professional performing the treatment, the material(s) used and laboratory costs, the location, dental insurance coverage and cost of any other dental work needed before or during orthodontic treatment.
Costs of braces range from $4,800 to $7,200. Typically considered restorative, orthodontic treatments are covered by many dental insurance plans. Special types of orthodontic treatment, such as clear aligners (e.g., Invisalign and ClearCorrect) also may be covered by dental insurance; the cost of clear aligners is about the same or higher than the cost of braces. Consult with your orthodontist's or dentist's office and/or dental insurer to learn what orthodontic treatments you qualify for.