Dental Implants Cost and Candidacy
Medically Reviewed by: Wayne Sutton, DDS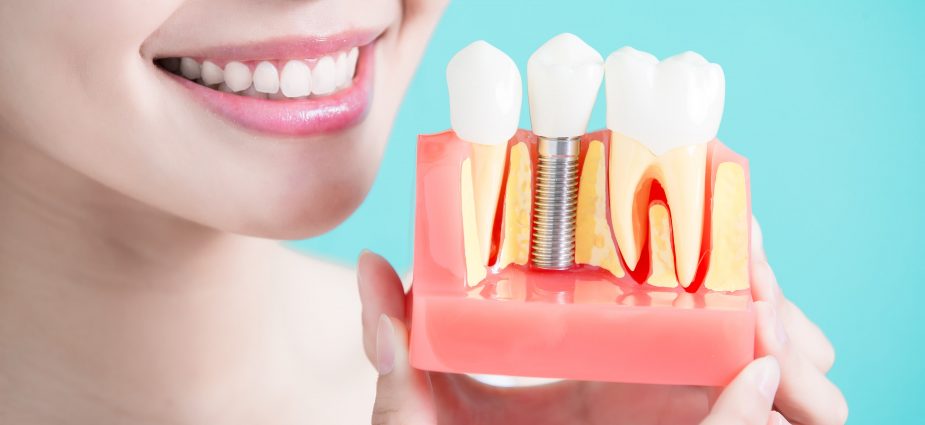 On this page: Cost of implants | Advantages of dental implants | Are you a candidate? | Implant risks | Mini implants
The cost of dental implants depends on many factors, including the type of implantation, the dentist performing the procedure, the location where the placement surgery is performed, the material used and the amount of dental insurance you have. Although implants tend to be slightly more expensive than other tooth replacement options (like dentures and bridges), they tend to be far more durable and last longer.
Pricing tends to vary from case to case, but on average, the per-tooth cost of dental implants can range from $4,000 to $5,500, depending on the aforementioned factors. Patients considering full mouth restoration with implants as an alternative to dentures (for the replacement of all or most teeth) should expect cost estimates ranging in the tens of thousands. For example, implant-supported full arch restorations can cost between $15,000 and $30,000. Full-mouth replacements could therefore cost upwards of $60,000.
If treatment is not covered by your insurance plan or if you don't have insurance, you may be able to enlist the services of a third-party financing company like CareCredit. Qualified candidates can work with a financing company to develop a monthly payment plan that best fits their budget.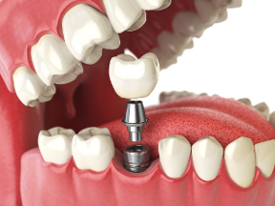 Given the cost, it's important to shop around to gauge pricing in your area. But keep in mind cost shouldn't be your only factor in selecting an implant dentist. You might find that the cheapest option in your area doesn't have the best of reviews from past patients. Setup consultations and meet the dentists and their teams to get the best sense of which practice suits all your needs.

Also, keep in mind that though implants may come with a higher price tag, there are a number of benefits that could actually make them a more economical restorative option over the long-term.
Advantages of Dental Implants
Dental implants are stronger and more durable than their restorative counterparts, such as crowns and bridges that are cemented into place, or dentures that are removable.
Implants offer a permanent solution to tooth loss. When used to support a dental bridge or dental crown because multiple teeth are missing, they represent a cavity-resistant and stable foundation for these restorations. Although there are many restorative options for replacing missing teeth, none have proven as functionally effective and durable.

Periodontists, oral surgeons and sometimes trained general practitioners perform the implant surgical procedure itself.
Are You an Implant Candidate?
To determine if you are a candidate for implants, seek the advice of a qualified dental professional with training in implants, crowns and/or oral surgery. Professional dental organizations such as the American Academy of Periodontology and the American Association of Oral and Maxillofacial Surgeons offer more extensive training. It is a type of oral surgery, so it is important to ensure that your dentist has the experience and training required for this sensitive procedure.
Dental implantation can be done any time after adolescence or when bone growth is complete. Certain medical conditions, such as active diabetes, cancer or periodontal disease, may require additional treatment before the procedure can be performed.
To determine if you are a candidate, your dentist will thoroughly examine your teeth and gums and evaluate bone density and quantity. This may involve X-rays and cone beam computed tomography (CBCT) to ensure there is sufficient bone structure for placing the implant(s), and to determine exactly where the implant fixture(s) should be placed relevant to the restorative treatment plan.
Based on the condition of your oral tissues, oral hygiene and personal habits, and commitment to follow aftercare instructions, your dentist will advise you of the most appropriate treatment plan. Some patients with insufficient bone or gum tissue require bone or soft tissue grafts and/or the use of small diameter implants (also called mini implants).
Also, if you are a smoker, your dentist will likely advise you to quit before undergoing the procedure because smokers face a higher risk of implant failure. A higher failure rate also occurs in people who take immuno-suppressants.
Procedure Success Rates

Dental implants are among the most successful procedures in dentistry. Although there is no guarantee that a given implantation procedure will be successful, studies have shown a five-year success rate of 95 percent for lower jaw implants and 90 percent for upper jaw implants. The success rate for the upper jaw is slightly lower because the upper jaw (especially the back area) is less dense than the lower jaw, making successful implantation and osseointegration potentially more difficult to achieve. Implant placement at the back of the lower jaw has the highest success rate.
What are the Risks?
Dental implants may fail for a number of reasons, but the cause often is related to a failure in the osseointegration process. For example, if the implant is placed in a poor position, osseointegration may not take place. Implants may break (a very rare occurrence), the site in which they were placed may become infected, or the crown restoration on top may loosen.
Poor oral hygiene can lead to peri-implantitis around the placement site. This is a disease that is similar to the development of periodontitis (severe gum disease) around a natural tooth. However, crowns are not susceptible to cavities the way natural teeth are.
New Procedural Strategies
Dentists have begun to immediately place implants into locations where teeth have been extracted. When successful, this approach can shed months off the treatment time because the osseointegration process is accelerated.

Candidacy for this type of early intervention depends upon the anatomy of the tooth extraction area. For example, in many cases the extracted tooth site is too wide, making placement impossible immediately after extraction. Bone or soft tissue grafting would be required to ensure a secure fit and placement.
Mini Dental Implants
Narrower "mini" implants may be used for small teeth and incisors. Also, a narrower option may best serve patients who require stabilization of lower jaw dentures, pre-molar teeth, or a missing tooth that was located in a narrow area. A small number of narrower restorations are FDA-approved for the purpose of prosthesis stabilization, including the mini dental implant. Only certain dentists may perform this procedure.
There are some core differences between traditional and mini implants:
Success rate is not as good as conventional implants.
Mini implants are approximately half the width of their traditional counterparts.
The implant is not fully submerged during a narrow procedure.
Should failure occur, the small size (that of a toothpick) means grafting is not necessary.
Mini implants are less costly.
Mini implants are solid though they do not contain a screw.
[updated Feb 5, 2019]
About the Reviewer
Dr. Wayne Sutton is highly experienced cosmetic and reconstructive dentist in private practice in Rohnert Park, CA. He received his Doctorate from UCSF School of Dentistry where he also served as a clinical instructor for three years. Dr. Sutton followed up his time at UCSF with extensive post-graduate training in cosmetic dentistry through The Pacific Aesthetic Continuum in San Francisco, one of the world's leading post-grad institutions. He also received training in Advanced Occlusion at the prestigious Hornbrook Group before entering into private practice. Dr. Sutton became one of the first dentists in Northern California to earn his Fellowship in the Academy of Comprehensive Esthetics. He is also a Fellow of the Academy of General Dentistry, the American Academy of Implant Dentistry and the Dental Organization for Conscious Sedation. To learn more about Dr. Sutton, visit his website: SonomaSmiles.com.