Composite vs. Porcelain Veneers – Choosing the Right Material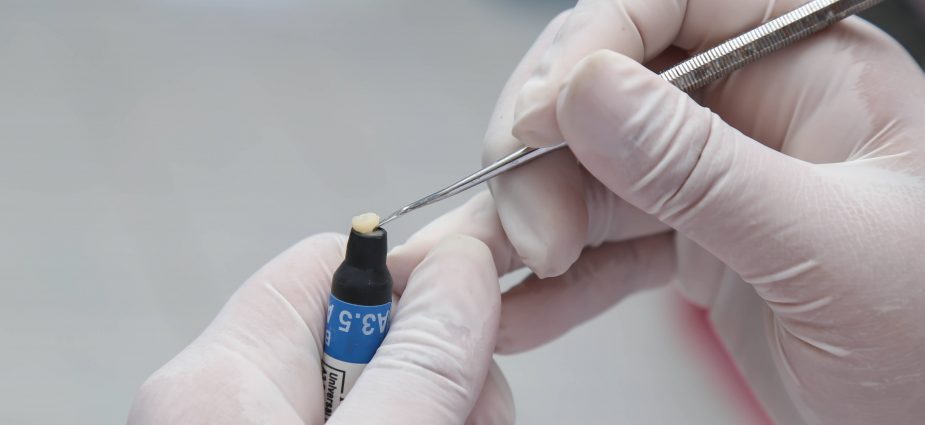 Choosing to have dental veneers placed is the first step to improving the aesthetics of your teeth and getting that winning smile you've longed for. Determining what material to go with is the second.
Composite resin and porcelain are the most commonly used materials in the veneer fabrication process. In the hands of an experienced cosmetic dentist, both materials can beautifully transform your smile. But how do you know which type is right for you? This comes down to your specific needs and which factors are most important to you (cost, treatment time, etc.). Let's evaluate some of the differences between composite and porcelain veneers.
Advantages of Composite Veneers
Composite veneers have a number of advantages over porcelain, chief among which is cost. On average, porcelain veneers are twice as expensive as composites, which is very important for some people given that most treatments are not covered by insurance, meaning you are likely paying out-of-pocket for treatment. The cost of traditional veneers varies between 1,000 and $2,500, but composites cost on average between $400 and $2,000 per tooth. This can add up quickly in a smile makeover.
Another advantage that composite veneers have over porcelain is the fact that composites can typically be fabricated while you wait, making it a same-day treatment. Direct composite veneers (also referred to as composite bonding) are actually sculpted on your teeth rather than in an offsite lab. The tooth-shaded resin is applied to teeth directly (hence the name) where it can be shaped and sculpted by the dentist. The shaped resin is hardened using a high-intensity light, after which additional layers of resin can be applied and sculpted as needed to elicit the desired aesthetic outcome. Once finished, the resin must be polished in order to elicit a more natural, tooth-like appearance. The composite procedure therefore tends to be much less invasive and noticeably quicker than porcelain.
Arguably the biggest advantage that composite veneers have over porcelain is reversibility. Porcelain requires reshaping of your natural teeth in order to fit the veneer. When it comes to composites, minimal prep work is required on your natural teeth, meaning that they are not permanently altered to such an extent that the composite material cannot be removed and replaced as needed.
Advantages of Porcelain Veneers
Although composite veneers have a number of advantages, there is one area in which they cannot compete with porcelain: durability. Porcelain is a far stronger material than composite resin (even with the improvements in resin materials over the years). Well-maintained porcelain veneers can last 10 to 15 years, compared to the five- to seven-year average lifespan of composites. It's important to consider this tradeoff if you're thinking of having veneers placed. That is, while composites may cost half as much as porcelain, they last only half as long. So, which is the better value?
Most dentists agree that porcelain veneers offer the most natural, tooth-like aesthetics. Porcelain has a translucent quality that is quite similar to tooth enamel. It is also highly resistant to staining and chipping due to the strength of the material and the glaze that is applied after treatment. On the other hand, composite veneers are more porous and therefore susceptible to staining, meaning that you may need to adjust your diet in order to avoid certain stain-causing foods. Composite also needs to be polished in order to achieve a tooth-like esthetic. And even then, it doesn't quite compare.
The porcelain veneer procedure is more involved, and often requires temporaries be worn while you wait for the veneers to be sculpted in a lab. However, more and more dentists are embracing chairside CAD/CAM technologies that help to speed up the process by allowing for on-site fabrication. If you are looking for a porcelain veneers solution, it's important to evaluate the sort of technologies that your dentist has available. You could end up drastically reducing the overall treatment time. Lastly, porcelain veneers offer a viable treatment solution for all cases of worn enamel, wear and tear, genetic defects, uneven teeth, etc. Composites may not be a viable option for severe concerns. For example, significant discoloration or spacing issues may not be adequately treatable with composite veneers, making porcelain your only option. Your dentist will conduct a thorough oral health evaluation as part of your consultation to determine your options.
Composite or Porcelain… What's the Verdict?
At the end of the day, the only way to determine whether a composite or porcelain veneer solution is right for you is to speak with your dentist about your aesthetic goals and to weigh your personal considerations. In other words, what is most important to you? If you're looking for the most cost-effective solution, then a composite veneers treatment plan will probably be a good fit. However, if you have a severe aesthetic concern, or you're looking for the most natural and durable treatment solution (and cost is not a consideration), then porcelain veneers will give you a fantastic result.
Regardless of which material you opt for in the end, you can rest assured that both offer fantastic smile enhancement.