Charcoal DIY Teeth Whitening: Does it Work & is it Safe?
Written by Consumer Guide to Dentistry Last modified on December 19, 2017
Teeth whitening is the most popular and accessible cosmetic dentistry treatment available. So much so that there's a seemingly endless stream of DIY whitening products aimed at consumers seeking an alternative to more traditional, in-office whitening programs. As a matter of fact, I'm chewing a piece of "whitening" chewing gum as I write this. With everything from dentist-prescribed take-home kits and over-the-counter trays and strips, to toothpastes, mouthwashes, floss, and yes, even gum, you might have thought you'd heard it all. Well what if we were to tell you that some people are now promoting charcoal as a DIY whitener?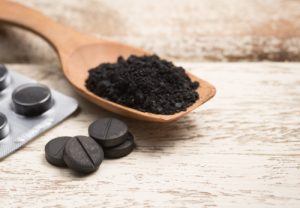 Activated charcoal is a substance commonly used as a treatment for acute poisoning or drug overdose. Its chemical makeup is such that toxins bind to it, and the body can then dispose of the toxins more easily. Its binding ability to attract toxins is why activated charcoal has become something of viral DIY whitener. Proponents believe that by brushing their teeth with it for a few minutes, stain-causing bacteria and toxins are removed, essentially whitening them. To some extent, this might be true. People who brush with activated charcoal may in fact see some whitening benefit. But at what cost?
When it comes to the safety and efficacy of dental products, the best reference for safety and efficacy is the American Dental Association (ADA) Seal of Acceptance. The ADA has not evaluated or approved activated charcoal as a DIY whitening product. Real concerns exist in the organization and amongst dentists about what long-term effect the abrasiveness of the charcoal may have on tooth health. Long-term use may eat away at tooth enamel, the protective outer layer, making them even more susceptible to discoloration and decay. The charcoal could even penetrate the interior dentin of the teeth, potentially causing more staining rather than removing it.
Although the jury may be out as to the beneficial effects of activated charcoal as a potential DIY teeth whitener, we urge extreme caution if you are considering this method for whitening. Its virality should be taken with a grain of salt. Your best course of action would be to speak with a dentist about your whitening options. If you are looking to whiten your teeth and unable to afford the costs of professional bleaching, there are alternative DIY options available that are more affordable, safer and have the ADA seal. The worst thing you could do is jump on an unproven dental trend that ends up damaging and discoloring your teeth, making for a considerably more expensive repair.
For more information, check out our slideshow covering the many pros and cons of DIY teeth whitening. You can also check out our more comprehensive article about home whitening.