Concussion-sensing Mouthguard Protects Teeth… and the Brain
Written by Consumer Guide to Dentistry Last modified on April 13, 2018
In recent years mouthguards have become a necessary accessory among athletes. All-star guard Stephon Curry likes to gnaw on one end of his mouthguard between plays while the rest of it dangles from his mouth; something that you can now see in rec centers throughout the country. NFL players are putting gold and diamond in their custom mouthguards, part of a "pimp your mouthpiece" movement that has turned into a competition. And of course who could forget Floyd Mayweather fighting Manny Pacquiao while wearing a $25,000 mouthguard that featured a real $100 bill inside it.
These mouthguard trends range from the bizarre to the ostentatious, but the unintended (and positive) consequence of this is that it's attracting young athletes to want to wear a mouthguard. And that's a great thing.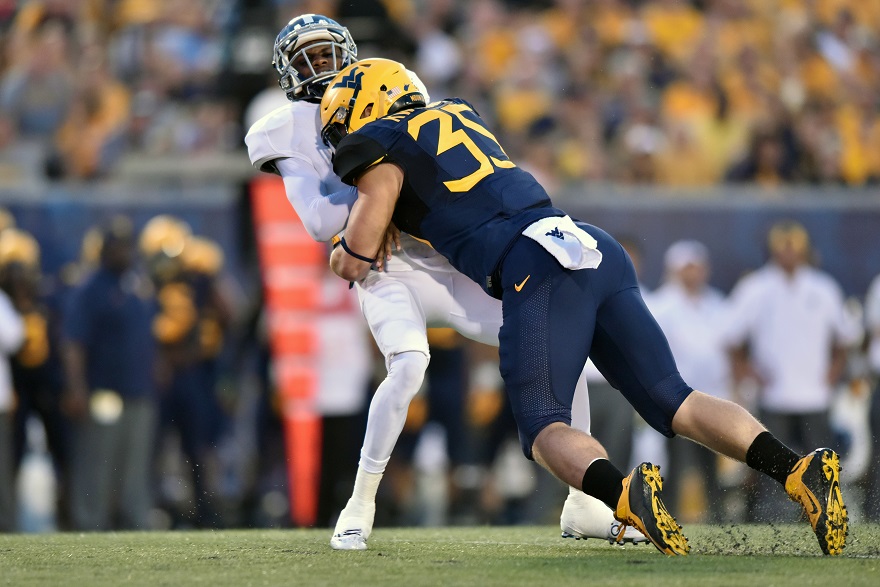 Mouthguards are essential for athletes who participate in contact sports (football, hockey, baseball, basketball, boxing, etc.). They offer protection for the teeth and gums against damage and injury like chips, cracks or worse. How many hockey players have you seen missing teeth? It might be seen as a badge of honor among some players and fans, but the dental health implications are significant.
We've provided coverage of mouthguards and sports dentistry over the years, and in this post we wanted to highlight a new mouthguard product that does a lot more than protect the teeth. We don't typically do product profiles on Consumer Guide to Dentistry, but our editorial team felt this product deserved coverage.
The Head Impact Monitor by Prevent Biometrics
Earlier this year, Prevent Biometrics announced the commercial launch of its Head Impact Monitor System (HIMS), a cutting-edge smart mouthguard that monitors head impacts in real time to track concussions.
Unless you've been living under the rock for the past five years, you'll know that the issue of concussions in sports has taken on considerable weight. Organizations like the NFL have been at the heart of the focus on concussions, making a number of "player protection changes" designed to reduce the risk of serious head injury (not to mention limit the league's liability). Similarly, a number of protocols have been established to monitor players for concussions in college and other amateur sports. Although many of these changes have been welcomed by the medical community (if not the fans), concussion evaluation still relies primarily on a series of observational tests. This is where HIMS can revolutionize the system.
HIMS records impact force, location and direction, comparing each to an "impact threshold" established for the wearer using real time data analytics. When an impact exceeds the designated threshold, an alert is sent to team personnel that the athlete requires a concussion assessment.
One of the biggest challenges in protecting players against serious head injury is being able to determine when contact is significant enough to warrant evaluation. Currently, the NFL relies on referees and independent health officials to identify players based on observational evidence. HIMS can take the guess work out of the situation by measuring real time data instead of relying on human observation.
It's no surprise that the NFL has been working with the players union and conducting tests with HIMS to determine a potential application for its players.
How it Works
The HIMS mouthguard more or less looks like any other mouthguard. However, inside it houses a flexible, shock resistance circuit board that is powered by impact monitoring technology developed by Prevent Biometrics. It's got four accelerometers that produce three channels of data, all of which are monitored by an advanced algorithm that triangulates the data. The front of the guard also has LEDs that provide a visual head impact alert. The impact data is synced wirelessly with a corresponding app that provides team members with real time data. As an added bonus, the app logs each athlete's personal history of lifetime head impacts, and features a concussion checklist provided by the Centers for Disease Control (CDC).
Although the most immediate and most obvious use for HIMS is in the world of professional sports, it certainly has broader appeal for kids and other amateur sports enthusiasts. Boasting a price tag of $199 for the basic boil and bite HIMS mouthguard and $299 for the custom fabricated HIMS mouthguard, this product is price-accessible for parents who want to track their children's head injury risk.
The American Dental Association (ADA) recommends the use of a mouthguard to protect the teeth when participating in 29 sports/exercise activities, including football, ice hockey, lacrosse, rugby, skateboarding, soccer, wrestling, boxing, basketball and more. The introduction of smart mouthguards like HIMS might lead to other organizations (like the American Head & Neck Society) to recommend their use to protect against brain injury as well.
For more information on HIMS, check out the Prevent Biometrics website at http://preventbiometrics.com/