East Islip Dental Care
228 East Main Street
East Islip, NY 11730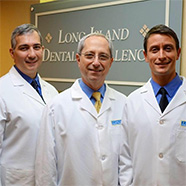 Michael J. Rechter, DDS
Zachary J. Spilberg, DDS
Demetrios Tsiokos, DDS

Read More >>
100 N Centre Ave., #402
Rockville Centre, New York 11570
90 Cove Road
Huntington, New York 11743
Cosmetic Dentistry in Long Island
The Long Island Cosmetic Dentist directory provides a way for you to review the backgrounds and experience of top Long Island (LI) cosmetic dentists. Cosmetic dentistry is comprised of a range of procedures, all designed to enhance the smile and improve the overall facial profile. The best cosmetic dentists in Long Island take into account the shape and coloring of the face, as well as the bite, when designing a smile makeover. Typical smile enhancing procedures include teeth whitening, dental implants and porcelain veneers. Some dentists provide special types of treatments, including sedation dentistry, where the anxious patient is made to be completely relaxed using oral sedation; or laser dentistry, where lasers are used in place of other less advanced treatment technology. New diagnostic techniques are also now available for early detection of tooth decay, teeth damage and oral diseases, such as gum disease. Many Long Island cosmetic dentistry and dental implants Long Island patients have benefited from these types of technology to not only improve their dental and oral health, but to gain a dazzling smile.
Cosmetic Dentistry While Traveling in Long Island
When undergoing cosmetic dentistry, many patients travel long distances and therefore find it pleasant to combine their dentistry treatment with a vacation in Long Island. Formally known as the Hamptons, Long Island is a beach playground for the rich and a tourist hotspot during the summer months. In south Long Island, the Fire Island National Seashore is especially popular with beachgoers and explorers. It is a barrier island offering excellent opportunities for swimming, canoeing and fishing, in addition to hiking and wildlife viewing for the land-loving cosmetic dentistry patient. While in the Fire Island area, people should visit the must-see Village of Ocean Beach. This village is completely car free with no bothersome litter to be found on the streets or the beach. This creates a relaxed, clean environment unique to so many alternative vacation locations. Anyone interested in nautical history will find the lighthouses of Long Island important points of attraction. The Long Island Lighthouse Society provides a wealth of information about the approximately thirty lighthouse sites, including an annual Lighthouse Challenge that draws both spectators and participants from all over the country. Choosing a cosmetic dentist in Long Island can be combined with the perfect summer vacation for the whole family.
Resources:
1. Fire Island National Seashore
2. Dental implants Long Island
For more information on being featured in the Dentist Directory, or to inquire about other practice marketing services,
please click here to email us, or call 858-454-5505.