For Oral Health, Does Vaping Smoke the Competition?
Written by Consumer Guide to Dentistry Last modified on March 2, 2018
As you're no doubt aware, smoking is a dangerous habit that has serious health consequences. Although the dental effects of smoking pale in comparison to the life-threatening general health effects, they are nonetheless impactful and noteworthy. (Check out our slideshow on 7 dental health concerns for smokers.) Smoking stains the teeth, increases the risk of gum disease and oral cancer, potentially limits candidacy for certain popular treatments like dental implants, and more.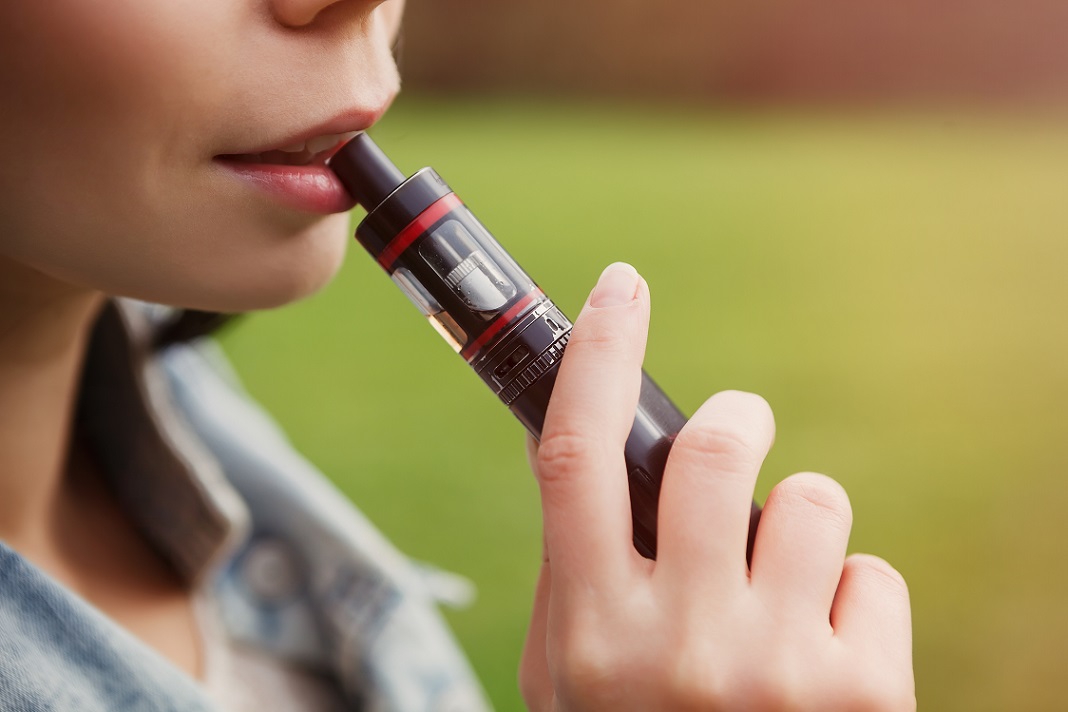 According to data from the U.S. Department of Health and Human Services one in five people smoke in the United States. Many of these smokers have transitioned away from traditional combustible cigarettes in recent years to the supposedly "safer" e-cigarette and vaping alternatives.
Electronic nicotine delivery systems (ENDS) are relatively new products that convert a liquid concentrate into an aerosol via a heating element. Many of those trying to quit smoking end up using ENDS because there is no tobacco involved. (It is called "vaping" because ENDS vaporizes the nicotine for ingestion, without using any tobacco.) The idea that switching to ENDS is a stepping-stone to quitting entirely. However there are a number of people transitioning to ENDS because of the trend, and there are even new smokers using them as an entry point to starting smoking.
So it begs the question: Is vaping really less harmful to health (specifically oral health) than traditional smoking?
Unfortunately this is a bit of a loaded question. Vaping is too new for there to be any long-term studies evaluating its health effects as compared with smoking. So it's rather disingenuous to get into any sort of true comparison at this point. But we can look at the potential oral health effects of vaping as a standalone.
Nicotine and Oral Health
E-cigarettes may not contain tobacco, but they do contain nicotine, the highly addictive chemical additive in traditional cigarettes. A vasoconstrictor, nicotine inhibits blood flow which can have damaging effects throughout the body. The level of reduced blood flow in the mouth is particularly high, compared to other parts of the body, causing the vaporized nicotine to directly enter oral tissues as the vapor is inhaled. This reduced blood flow can lead to tissue death and gum recession. As if this isn't bad enough (recession can increase your risk of a number of dental problems), the reduced blood flow can hide the symptoms of serious gum disease.
Gum inflammation and bleeding are two tell-tale signs of gum disease. By inhibiting blood flow and creating a reduced level of bleeding and inflammation, nicotine can make it more difficult for a dentist to identify gum disease. Considering that gum disease has been linked with stroke, heart disease, diabetes and cancer risk, masking of its symptoms is a serious dental and general health concern.
Nicotine can also cause teeth grinding, which seriously damages the surfaces of the teeth and can impact bite alignment, leading to jaw-related problems like TMD.
Nicotine aside, there are other oral health concerns associated with vaping that still need to be studied. For example, the liquids used in vaping contain an array of chemicals (like diethylene glycol) that can potentially be harmful, depending on the concentrations and frequency of use. Many contain a menthol additive that has been shown to break down epithelial cells, potentially harming gum tissue. In addition, many dental patients who vape have reported issues related to dry mouth (xerostomia) which increases the risk of tooth decay.
The bottom line is simple. Although vaping might not share all the negative health effects of smoking combustible cigarettes, it has its own health concerns (specifically oral health concerns) that have not yet been fully studied or evaluated. If you use ENDS, speak with your dentist to learn more about the potential oral health effects.