The Reviews are in… Dental Patients Love Reviews
Written by Consumer Guide to Dentistry Last modified on April 27, 2018
How important are reviews when it comes to your search for a new dentist? According to the readers of Consumer Guide to Dentistry, they are "extremely important."
Recently, we conducted a study to determine the role of reviews researching dentists. Sixty-eight percent of respondents identified reviews as extremely important, while an additional 30 percent noted they were "somewhat important" to the process.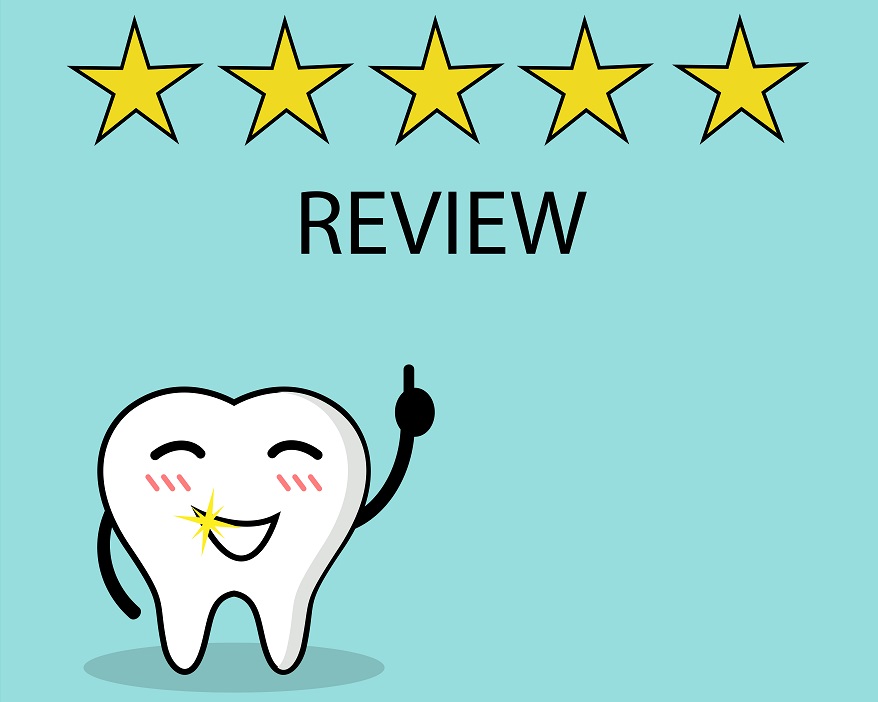 These days it seems as though online reviews are all the rage. Looking for a new restaurant to try? Hop on Yelp and see what people are saying. Wondering how good the latest Star Wars movie is? Hop on Rotten Tomatoes and see what people are saying. Whatever it is you're looking to get public feedback about, reviews are there for you. And dental care is no exception.
Perhaps you've moved and you need to find a new dentist for you or your family. Or maybe you're considering a cosmetic dentistry treatment like teeth whitening or veneers, and you're not sure where to turn. Reviews offer a quick and easy solution for dental patients looking for feedback about dentists, products, treatments, etc.
Given the important role that reviews play in the process of selecting a dentist, we wanted to share the survey findings with you to enhance your decision-making process.
Which Review Site is MOST Important to you When Researching a Dentist?
First and foremost, we wanted to know where dental patients go to read reviews. HealthGrades, Facebook, Yelp and RateMDs were the most commonly identified sites. Approximately 13 percent of respondents identified HealthGrades as the most important review site when researching a dentist. This compared with 9 percent that identified Facebook, 7 percent that identified Yelp and 7 percent that identified RateMDs as most important.
What Factors Influence you the MOST When Judging Dental Reviews?
Getting more specific, in addition to finding out which review sites are used most for researching dentists, we wanted to know what characteristics of the reviews are most important to consumers. We identified six factors: overall star rating, review sentiment, recency of the review, the number of reviews, the length/detail of the review, and whether the dentist/practice had responded to the review. Not surprisingly, star rating was viewed as the most important factor as identified by 31 percent of respondents. The number of reviews was the second most important factor according to 17 percent of respondents, suggesting that there's strength in numbers. Length/detail of the review was the third most important factor, registering 14 percent.
What Device did you use to Post Your Review?
Dentists recognize the important role that reviews play in marketing their practice(s) and are therefore taking steps to make it easier for patients to leave them. One of the best ways for dentists to elicit a patient review is to strike while the iron is hot, immediately after treatment. This means making it easier for patients to leave reviews from their mobile devices when the experience is freshest in their minds. In our survey, we were interested to learn how prevalent smartphones had become as a device for leaving dental reviews. Approximately 36 percent of respondents noted that they used their smartphone to post reviews. This compared with 46 percent who indicated that they used a desktop/laptop computer.
Have you Ever Posted a Dentist Review?
Considering that 68 percent of respondents identified dentist reviews as "extremely important" when it comes to choosing a dentist, it follows that a significant number of people were likely to have posted a review themselves. Not so fast. Only fifteen percent of respondents said that they've actually posted a dentist review. It's a divide that dental practices throughout the country are working to close through enhanced marketing efforts aimed at review solicitation. Our expectation is that the number of reviews posted using mobile devices will continue to grow as these efforts take shape.
The Bottom Line
Reviews are an excellent resource to facilitate the process of selecting a new dentist. Although we do not advise that reviews be the only method used to research and select a dentist, they are an invaluable tool for the decision process. If reviews are not typically a part of your selection process, we urge you to consider their value the next time you go shopping for a new dentist.
DID YOU KNOW? Consumer Guide to Dentistry features dentist reviews. Check out reviews for dentists nearest you.
For additional information, check out our slideshow on 8 Factors to Consider When Choosing a Dentist.