Dental Materials 411
Dental technicians' work serves as the cornerstone in the fabrication process of most dental prosthetics. Your dentist usually relies on one or more dental lab technicians to help craft your single tooth restoration, full mouth reconstruction, or smile makeover. In fact, dental lab technicians are involved in the completion of a variety of procedures, including: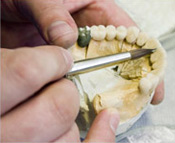 Veneers
Dental implant components
Crowns
Bridges
Dentures
Orthodontic appliances
Splints
Most dental technicians work in small private labs, though occasionally they work in large dental laboratories. In some cases, the technician may even work in your dentist's office in order to be more involved with the process. More often than not, you will not interact with the technician; most of the communication takes place between the lab technician and the dentist. However, direct communication between patient and the dental lab technician does occur in some cases.
In contrast, a high level of communication between dentist and technician during the fabrication process is integral in eliciting the best results. Communication regarding the specifications of your procedure is aided by dental photography, imaging software and dental study models.
Ensuring Fit and Comfort
Tooth restorations must feel comfortable. An ill-fitting tooth restoration may affect the outcome and longevity of the procedure. Ill-fitting restorations can house bacteria that may cause tooth decay. Dental technicians use sophisticated equipment like articulators and high-powered microscopes to ensure the dimensional accuracy of each restoration and corresponding occlusion. Such assurances help determine the look, feel and fit of your restoration(s), yielding optimal fabrication.
The lab technician's familiarity with and comfort in using the materials impact the fit and comfort of the restoration. Because of this, you may wish to discuss certain dental lab issues with your dentist, such as:
Are the materials used in each dental procedure of the highest quality?
What are the experiences and education of the dental technician?
Does the dentist work and communicate with a specific dental lab technician, or does the dentist use a large commercial dental laboratory?
Does the laboratory outsource the work overseas? In such cases, dentists have no control over the quality of the materials used in fabrications.
The Training and Skill of Dental Technicians
Not all dental technicians have college degrees. Some receive their degrees through two-year associates programs, and a limited number of bachelor programs are available. Top-level technicians typically undergo advanced training and regularly participate in continued hands-on training. Accredited programs and continuing education options are available through organizations like the American Academy of Cosmetic Dentistry (AACD). Any good lab tech must be technically sound and possess a high level of artistic ability.
Types of Dental Technicians
There are four categories of technicians, although many times, one technician can perform all of the tasks:
Ceramists work primarily with porcelain.
Crown and bridge metal technicians are prevalent in the industry.
Denture technicians are not as common as they used to be.
Ortho technicians specialize in removable appliances.
Dental Technicians and the Fabrication Process
The exact nature of the fabrication process, and the role the dental technician will play in it, depends upon the type of restoration required. Some examples are as follows:
Dental Veneers: Prior to the fabrication of a veneer, many cosmetic dentists offer you a preview of the potential results by having the dental technician craft "temporaries" that fit over your teeth. While wearing the temporaries for a few days, you can communicate with your dentist in order to identify the optimal look, feel and fit of your permanent veneers. Temporary veneers are attached with composite resin material, firmly holding them in place while making them easily removable.
Once you are comfortable with your temporaries, the dental technician may begin the fabrication of your final veneers. Final veneer fabrication methods include:
Layered Veneers: A mixture of porcelain, powder and liquid is applied to a model of your tooth in differing layers and colors to reach a favorable level of translucency and color. Layered preparation allows for a limitless level of control over color and opacity. The porcelain powders are fired in a special vacuum oven (kiln) at temperatures ranging from 1,500 to 1,800 degrees Fahrenheit. The resulting glass-like veneers are then sculptured by skilled hands until the desired form and function is achieved.
Pressed Veneers: A dental model is sculpted in wax and placed in a high heat "investment material." This material coats the wax model, adopting its shape. The combined fabrication is then heated in order to melt away the wax and isolate a hardened material that will serve as the foundation for your pressed veneers. The mold is removed from an oven and placed into a special ceramic press that forces a 2,000 degree molten ceramic substance onto it. Once the ceramic substance has cooled and hardened, the pressed veneer fabrication process is complete.
Dental Implants: The role that is played by the dental technician in a dental implant procedure is to make the connector restoration that attaches to the implant. This includes a crown, denture or bridge.
Dental Crowns, Bridges, and Dentures: The fabrication of a crown, bridge or removable partial denture requires the application of layers of porcelain or acrylic paste over a metal framework with a small spatula or brush. The dental technician then uses the spatula or brush to trim away excess residue and craft the appropriate restoration. After the restoration is hardened in a furnace, it is polished using different types of electric or turbine powered hand tools.
Dental Materials and Allergies
If you think you may be allergic to certain dental materials, you may want to take a Dental Materials Reactivity Test. This test will identify materials to which you have sensitivity or that may cause an immunological reaction. The types of materials that are tested include:
Metals
Composites
Cements
Various other related components in tooth restorations
During the test, your blood will be drawn and its antibodies separated. The formation of antibody complexes indicates a reactive defense to a substance. The gathered information is entered into a computer database and cross-referenced with over 150 dental material components. The resulting report identifies the specific material or manufacturer name associated with the material that may produce an allergic reaction for you.