Cosmetic dentist offering dental implants, laser surgery, crowns, bridges, veneers and full smile makeovers in Skopje, Macedonia and the surrounding area
Diana Bojkovska is a highly skilled dentist who has been serving patients from Skopje, Macedonia, and around the world for many years. As the owner of Mediana Dental Implants, a state-of-the-art dental clinic in Skopje, she provides a full spectrum of general and cosmetic dentistry services. Dr. Bojkovska specializes in oral surgery and dental implants. In addition to receiving her dental degree from the prestigious University of Dentistry – Skopje, she has undergone numerous continuing education courses in order to refine her expertise at performing dental implants surgery, the treatment of oral cancer and salivary gland diseases, and other procedures.
Before

After

Before

After

Before

After

Before

After

Before

After
At the leading-edge offices of Mediana Dental Implants, Dr. Bojkovska and her staff offer a wide array of cosmetic dentistry procedures in order to provide each patient with a complete smile makeover, including dental implants, crowns, bridges and fillings. In addition, Dr. Bojkovska is an extremely talented dental laser surgery provider who offers numerous treatments with the latest, most sophisticated laser technology. Laser treatments often performed at Mediana Dental Implants include laser bleaching, laser periodontal treatments, laser gum reshaping, herpes labialis treatment, frenectomy, root canal treatment and the removal of benign oral formations.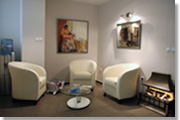 Dr. Bojkovska and her talented staff of dentists and technicians are committed to providing top-quality treatments in a comfortable, professional environment. They have received intensive training both locally and abroad and provide all services in a luxurious, modern facility. The staff at Mediana Dental Implants develop personalized treatment plans to meet the unique needs of each patient. In order to ensure that patients receive high-quality results in the safest possible manner, Mediana Dental Implants uses only the latest, most advanced technologies. In providing implants, Dr. Bojkovska and her staff rely on dental implant systems with proven success rates, including Nobel Biocare Replace implants, Dentsply Friadent Ankylos implants and Dio SM implants. Using these systems, implants can be placed in one day – the same day as the tooth extraction – with crowns or bridges added three to six months later. Dr. Bojkovska uses only the finest crowns of full porcelain or porcelain fused to metal in order to provide stunning smile enhancement results.
Dr. Bojkovska recognizes that many patients opt to travel abroad in order to undergo affordable cosmetic dentistry procedures while also enjoying a European vacation. To assist these patients, Dr. Bojkovska offers free dental advice online to people with issues pertaining to their teeth, gums or mouth. In addition, Mediana Dental Implants provides free flight and hotel stays for patients traveling from Europe for four dental implants, or from the United States or Canada for six dental implants. Mediana Dental Implants also offers free airport transportation for all patients. Dr. Bojkovska is fluent in both Croatian and English and is therefore able to communicate easily with patients traveling from the surrounding area as well as from the United States, Canada and other English-speaking countries.
To schedule a one-on-one consultation with Dr. Bojkovska and learn more about your cosmetic dentistry options, please call Mediana Dental Implants at +389 2 3176003.