Charitable Partner to Host Virtual Ball Fundraiser for Kids
Written by Consumer Guide to Dentistry Last modified on November 22, 2017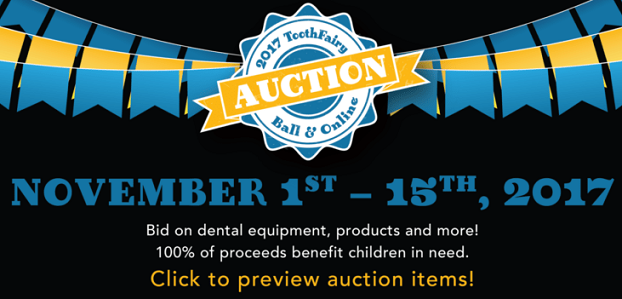 Hey sports fans… how would you like a trip to Chicago to enjoy the Classic Wrigley Field Rooftop Experience? Or what about attending the 2018 ESPY Awards in Los Angeles with all your favorite celebrities and sports stars?
If sports aren't your thing, perhaps you'd be interested in a shopping spree at Saks Fifth Avenue. Or maybe tickets to see an award-winning show like West Side Story or The Wiz.
Sounds good right?
These are just a few of the prizes up for grabs at the 4th annual Virtual ToothFairy Ball and Online Auction hosted by our charitable partner, the National Children's Oral Health Foundation (NCOHF). The auction is designed to raise vital funding to support oral health education and care for underserved children. NCOHF is America's ToothFairy, with a mission to increase access to oral health care for those most in need by supporting non-profit clinics and community partners delivering education, prevention and treatment services.
The majority of the prizes up for auction are geared towards dental professionals, but there are a number of products and trips like the ones featured above that anyone can bid on.
The fun starts on Nov. 1st and bidding runs through Nov. 15th, ending at 8PM EST. If you're interested in helping to support this wonderful cause and perhaps get some sweet swag for yourself at the same time, you can preview the event and check out all the prizes on offer at www.AmericasToothFairyBall.org.
NCOHF Does Great Work for Children in Need
Generous support from corporate underwriters and sponsors means that 100% of the money generated through the auction goes directly to providing oral health services for children in need. In the three years that NCOHF has been running the auction, the organization has been able to generate hundreds of thousands of dollars that has helped in a number of ways, including:
School-based screenings, fluoride varnish and other dental service programs
Services in non-traditional settings like homeless shelters and the Boys & Girls Club
Screenings, education and care for children with special needs
Oral health education for underserved children and families
Comprehensive care for children in poverty
Capacity expansion for non-profit and safety net dental clinics
Provision of oral care kits
If you're interested in helping to support NCOHF, but the virtual auction is quite your cup of tea, you can donate directly to the organization here.
Pediatric Tooth Decay
There are a number of dental charities that do great work throughout the dental community. We at Consumer Guide to Dentistry decided to partner with NCOHF because of their focus on eradicating pediatric tooth decay, the most prevalent chronic disease among children in America. Approximately 20% of children in the U.S. go without dental care. More than 40% have decay by the time they reach kindergarten. And children with poor oral health are three times more likely to miss school as a result of dental pain, which can have devastating repercussions for oral and general health, social development and education. NCOHF is dedicated to tackling this issue head on, and we're proud to support their mission.
To learn more about how you can get involved, visit America's Toothfairy at http://www.ncohf.org/get_involved/