Porcelain Veneers – Procedure Costs & Recovery
Medically Reviewed by: John H. Krell, DDS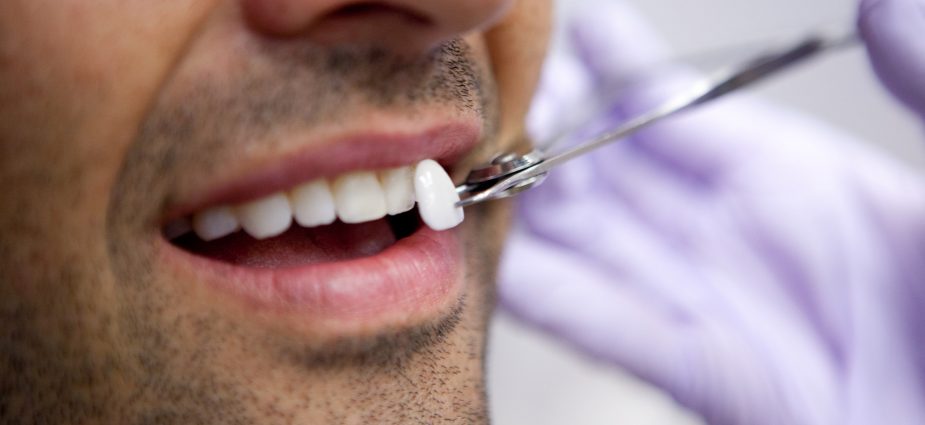 On this page: Are you a candidate for veneers? | The veneer procedure | Recovery & aftercare | Cost of veneers | En Español
A dental veneer is an ultra-thin shell of tooth-colored porcelain or composite that is cemented over the facial surfaces of your teeth to correct dental issues including worn tooth enamel, uneven tooth alignment or spacing, tooth discoloration, and chips or cracks.
Although veneers fall into the category of cosmetic dentistry because they help makeover smiles with beautifully aligned, shapely teeth, they also boast protective qualities and may eliminate the need for more extensive treatments. Other benefits include durability, an improved smile appearance, and the need for little-to-no removal of tooth structure compared to crowns. (There are even veneer variants that require no preparation of the underlying teeth.)
Regardless of what causes unattractive teeth, dental veneers may solve most or even all of your cosmetic dental issues, including:
Worn enamel: Tooth enamel can become worn or dulled naturally over time (consuming soft drinks, tea or coffee, smoking and the use of certain medications), or as a result of a genetic predisposition. Veneers are perfect for correcting smiles affected by worn enamel.
Wear and tear: As we age, our teeth naturally begin to wear down. Aged teeth are more likely to have chips, cracks or a generally uneven appearance. Veneers can restore the natural appearance of healthy, youthful teeth.
Genetics: Certain people are born with abnormal spacing between their teeth that widens with age.
Uneven teeth: Uneven teeth can result from the grinding/gnashing of teeth, and/or through general wear and tear. This can lead to bite issues (malocclusion) in addition to cosmetic smile issues.
Discoloration: Stubborn tooth discoloration may not be fully correctable through teeth whitening. In such cases, veneers can offer a simple, cosmetic solution.
Check out the following video detailing the preparation and placement of dental veneers, and/or continuing reading below to learn more about veneer candidacy, treatment and cost.
Are you a Candidate?
To determine if you are a candidate for dental veneers, your dentist will schedule a preliminary consultation during which your oral health will be evaluated(Most dentists prefer to offer patients the most minimally invasive options.) Treatment involving tooth preparation is irreversible, so it is important that your dentist discuss any alternatives that provide the same results but with minimal to no removal of tooth structure. If you and your dentist decide that veneers are the best option, the next step involves a thorough review of treatment details, including preparing your teeth for your specific veneer procedure and what will be necessary for them to look and fit correctly.
During your consultation, you will actively participate in the "smile design process." By sharing your preferences for the shape, length, width and color of the veneers and the change in the appearance of your smile that you want them to create, you help ensure that your treatment will meet your expectations. It is important that your dentist understands your objectives during your veneer consultation.
Veneer Procedure – What to Expect
The dental veneer procedure can often be completed in two visits over the course of six weeks. The visits are comprehensive and may require several hours of examination and tooth preparation. Dental offices typically boast amenities that may include sedation and audio/visual distractions, and dental spas even offer massages and other services to help you relax and stay comfortable.
The diagnostic and examination phase of treatment is essential and identifies any oral health concerns that must first be addressed before veneer placement. Your dentist will also work with you to select the best tooth color for you from a special shade chart. Imaging technologies can provide you with a preview of your expected results, and before and after images can allow you to view other successful cases. Treatment begins when the examination is completed, and the customized plan designed.
Step-by-Step Details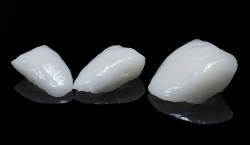 There are several steps in the procedure. First, your dentist will likely administer a local anesthetic so you will be comfortable during tooth preparation and placement of the veneer. Your natural tooth is then prepared by minimally reshaping it with a small handheld rotational cutting device called a bur to provide the best fit. Burs come in various shapes and sizes and allow precise and minimal shaping of a tooth prior to placement.
If your treatment involves direct composite resin veneers, your dentist will then apply the appropriately shaded composite to your teeth, shape the material and harden it using a high intensity light. Additional layers of composite may be applied to build the veneer to the correct shape, length and form for your smile. When all composite is placed, the veneers will be finished and polished using burs and polishers to create a vital and lifelike smile.
If your treatment requires porcelain veneers, your dentist will make an impression of your teeth from which a mold of your mouth will be made. This impression may be sent to an outside dental laboratory where the veneers will be professionally fabricated. Some dentists have an in-house dental laboratory and technicians to provide restorative and esthetic treatments in less time. Other dentists have chairside CAD/CAM technology and may fabricate the veneer in one visit.
Dental Labs, CAD/CAM and Temporaries
Dentists typically work with outside dental laboratories for the fabrication of the restorations they need. Some dental laboratories use CAD/CAM technology to fabricate veneers. If yours is made in a dental laboratory, you may receive temporaries at your preparation appointment.
Temporary veneers provide a preview of the expected outcome, though it should be noted that temporaries may not always be placed. If your treatment involves one or a couple of teeth and enough enamel remains on the surface, your dentist may forgo the temporary process.
However, after your teeth are shaped, they may be more sensitive to hot and cold due to the loss of enamel during tooth preparation. Increased sensitivity may also occur if you have temporaries placed and for a brief time following placement of the final veneers.
During the placement appointment, your dentist will remove the temporaries and place your final veneers, after which they will evaluate and adjust them to ensure the optimal fit and color.
Chair-Side CAD/CAM
When dentists use CAD/CAM technology in their office to produce restorations, they will be fabricated, bonded and adjusted onto your teeth in one visit. This type of treatment is often marketed by dentists as "same-day dentistry" and does not require temporaries.
Recovery and Post-Procedure Care
Veneers are durable and have been shown to last for many years before requiring replacement. Seeing your dentist and hygienist for regular examinations and dental cleanings is important for maintaining the health of your mouth and longevity of your restorations.
Aftercare is extremely important. Chipped or fractured porcelain veneers cannot be repaired, so your dentist will advise you of the costs and added time associated with replacing a damaged restoration.
To reduce the risk of damage, do not bite or chew on hard objects such as nut shells or bones, and do not use your teeth to open or tear packages. Your dentist also may advise you to avoid certain foods that could cause damage.
Brush and floss your teeth as you normally would and be sure to use a non-abrasive toothpaste. Because veneers are highly polishable, the risk of staining them with food or drink after the procedure is complete is greatly reduced. However, brushing after drinking red wine, coffee, tea or soda is advisable.
Take Good Care of Your New Smile
Care must be taken not to abuse veneers because the thin porcelain shells or composite layers can be damaged or broken.
Your dentist may advise you against certain uses or dietary tendencies (such as eating carrots) and may recommend you wear a protective appliance while sleeping, especially if you are a bruxer.
Veneers Cost Factors
Porcelain veneers are more expensive than the indirect or direct composite resin alternative. Traditional porcelain veneers cost between $1,000 and $2,500 per tooth but can last 10 to 15 years. Composite veneers cost approximately $400 to $2,000 per tooth and may last between five and seven years.
Generally speaking, the cost of dental veneers depends on many factors, including:
The fees of the cosmetic dentist performing the procedure.
The artistic and technical skill of the ceramist making the veneers and the cosmetic dentist who places them.
The location where treatment is performed. Costs for cosmetic dentistry procedures vary widely by region of the country, specifically from large metropolitan areas to smaller towns.
The type of dental insurance you have. Dental insurance typically does not cover cosmetic procedures.
The material used. Porcelain is more expensive than indirect or direct composite resin.
The number of teeth being treated.
Many dentists offer payment plans for cosmetic and restorative dental procedures. Ask your dentist about financing options. If your dentist doesn't offer financing, you may qualify for third-party financing through companies like CareCredit. Qualified candidates can work with a financing company to develop a monthly payment plan to fit their budget.
Veneers or Whitening?
Porcelain dental veneers or direct composite veneers may require the "shaping" or "prepping" of all teeth being treated. Therefore, some cosmetic dentists first recommend teeth whitening to people with mildly discolored teeth who want a whiter and brighter smile because it is the least invasive cosmetic dentistry option. If crooked teeth or alignment issues are involved, whitening also may be combined with orthodontic treatments, including Invisalign.
[updated September 7, 2021]
About the Reviewer
John H. Krell, DDS is a top Houston family dentist committed to dental aesthetics, high-quality patient care and compassion. Harnessing state-of-the-art, forward-thinking technologies and a conservative approach to dental care, Dr. Krell strives to provide his patients with the best available treatments focused on prevention in a calming and welcoming practice environment. Hailing from a family of dentists, Dr. Krell works alongside his brother to cater to the dental care needs of patients in and around Houston. Learn More