Eco-Dentistry: "Green," Environmentally Friendly Dental Care
Eco-dentistry or "green dentistry" refers to the delivery of oral health care and dental treatments using technologies, procedures and materials that promote environmental and planetary health. Eco-dentistry, a term trademarked by the Eco-Dentistry Association (EDA), incorporates high-tech innovations that enhance efficiency and effectiveness while reducing the amount of waste and pollution in the environment.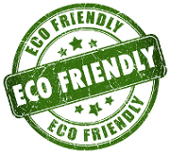 Benefits of Green Dentistry
Dental practices that have gone green have incorporated technologies that improve their practices and procedures and make them more eco-friendly. Benefits include:
Less Radiation. Better Diagnostic Detail. For example, one of the most significant innovations for green dental practices is digital radiography, which eliminates the need for traditional film X-ray systems. With digital X-rays, dental practices dramatically reduce the harmful chemicals such as lead and silver that are released into the environment. Additionally, patients are exposed to approximately 90 percent less radiation with digital imaging compared to traditional X-rays. Also, images are available to your dentist immediately, are of better quality than traditional X-rays and can be enlarged for greater diagnostic detail and accuracy.
Less Chemical Contamination. Fewer Disposables. Green dental practices also use high-quality, biodegradable disinfectants and steam sterilization methods that don't require ventilation for chemical vapors, or a hazardous waste permit for disposal of toxic chemicals into a water supply. They also have energy-star washers and dryers on site to facilitate the use of cloth bibs, gowns, head rest covers and other supplies that are washable and can be reused. This eliminates the use of disposable paper products.
More Natural-looking Restorations. Less Heavy Metal Waste. At a time when you and others may be interested in more natural looking restorations, eco-dentistry embraces today's adhesive, metal-free dental restoratives using direct composite bonding or porcelain veneers (including Lumineers and other minimal and no-prep veneers) and crowns. These options serve two purposes:
First, they provide metal-free, esthetic smile treatments. Secondly, they help eliminate the heavy metal waste associated with silver amalgam fillings that could end up in the main water supply.
Because patients often prefer adhesion dentistry, tooth-colored restoration benefits the environment as well as the health of the patient by getting rid of the heavy metal waste from the main water supply.
Choosing a Green Dentist
Any dentist — including your own — could be a green dentist. Green dentists and those who are members of the Eco-Dentistry Association tend to rethink decisions about their office products, supplies and equipment, and choose environmentally sound options. They also strive to decrease the impact of their practice on the environment by using energy-efficient fluorescent lights, as well as low-flow faucets and toilets. When redecorating or painting the office, the paint selection will be one that contains no Volatile Organic Compounds (VOC) and will decrease the amount of toxins in the air.
Dentists who have achieved the highest standards for maintaining a green dental practice can receive GreenDOC certification from the Eco-Dentist Association (EDA). Practices that are EDA GreenDOC certified at the Bronze, Silver or Gold level have incorporated products, equipment and techniques for clean, green dentistry, and have documented their efforts. These efforts could include switching from traditional X-rays to digital imaging; using non-toxic floor varnish; switching to digital patient communication and marketing programs; and using washable cloth materials whenever possible.
If you are interested in receiving your dental care from a dentist who maintains an eco-friendly practice, the Eco-Dentistry Association (EDA) website (www.ecodentistry.org) includes a link to a green dental practice locator. However, whichever dentist you select, be sure first and foremost that he or she has the necessary dental training and education to provide the treatments you need.